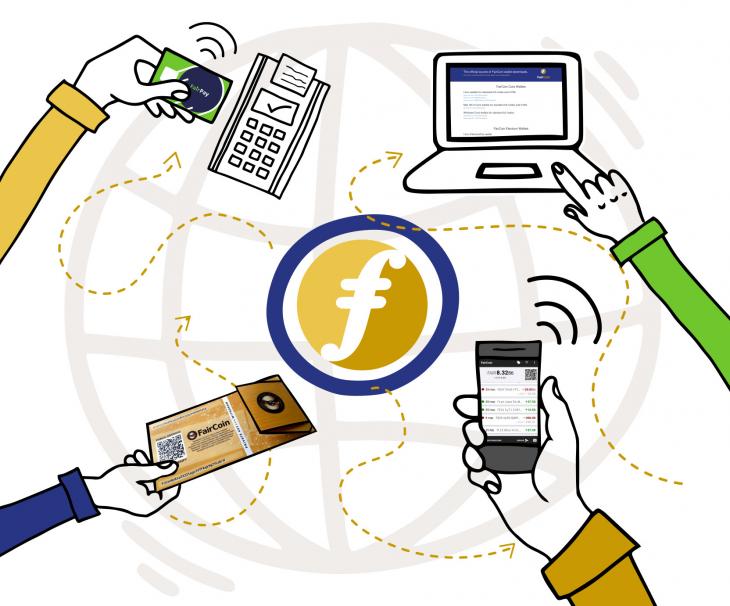 Introduction
We want to familiarize you with the basic uses of FairCoin when offering goods or services as a merchant or service provider.
Using FairCoin is not complicated, and in this overview we will cover the essential functions of coin storage, methods of payment and frequently asked questions. 
Basics about FairCoin
FairCoin was choosen by the cooperative network of FairCoop as a social currency, to simplify but also to strengthen the economic activities between participants who share the same values of fairness, sustainability, and much more. It may be used either as a medium of exchange or as an asset for value storage. We see FairCoin also as a kind of ethical label, which highlights shops and products which are working towards a more fair and sustainable economy.
More technical details about cryptocurrencies in general and FairCoin specifically can be found here. And you can find some interesting statistics about the whole FairCoop ecosystem here.
Different ways of payment
There are different possibilities for your customers to pay with FairCoin. From our side, there are also new developments to make the available ways of payment easier and more user-friendly.
As FairCoin is digital money the need for at least an electronic device with a live internet connection is required, either from your side or the buyer's. Below, you can read about all different use cases:
It doesn't matter which way of payment you or your customer choose. Your nearest Local Node or the global FairCoop community can provide support for installation or any other issues.
Building A Fair Economy
The ultimate goal is to build a real and fair economy around FairCoin, which of course requires lot of effort and wider networking. That is something we all need to collaborate on and keep in mind as we become involved and use FairCoin.
Circular Economy
The purpose is to use FairCoin for real products and services that cover your basic needs, rather than exchange it back to fiat. This is our main goal and the base on which we should build a truly alternative and fair economy, along with empowering new productive projects and people that are keen on joining the FairCoop ecosystem. 
The whole concept of having a stable official price and very low transaction fees is contributing to that idea as well, as we expect FairCoin to be a currency for everyday use, rather than a speculative asset.
Things you can do to contribute towards that end are:
Look for services and goods you need, using our growing online platforms FairMarket and UseFairCoin.
Contact your nearest Local Node and find out about ways to use your FairCoin in a more sustainable way. The Local Nodes are there to answer any related question and help you to become more involved in the local (or global) solidarity economy.
Talk to your suppliers, collaborators or clients so that they become aware of FairCoin and become users too. This is another task that a Local Node can surely help with, or even the global Circular Economy group which is there to support you as well. Contact us at .
Ethical trade
Lastly, another thing we need to highlight is the coexistance of FairCoin, its Fair Economy and the stable official price, in relation to the exchange market's price. Our aim is to distinguish between these two realities and our focus is outside the speculative market. However, speculation is something we cannot avoid entirely, although most of the capital (~85%) is already outside these markets and we strive to participate only in exchanges that are decentralised, more secure and have at least a minimalrelation to our goals.
In fact, we have recently started a campaign in which you can invest an amount in fiat or another cryptocurrency than FairCoin, in order to buy back "cheap" FairCoin from the speculative market and put them back into the hands of people that are part of our ecosystem. That is a profitable investment for any individual which at the same time helps to sustain the balance of our fair economy (see here for more details).
However, being a world-wide and fully decentralised crypto-currency needs to make us all aware of the different users and possibilities that exist. In that sense, we should inform you about the chances of people acquiring coins from the speculative market, especially in times where there is a big price difference, and then using them inside the Fair Economy with the purpose of making profit (e.g. reselling goods for fiat). Thus, we all need to be cautious about such buys and report any strange or unusually high orders, bearing in mind that the main goal is covering basic needs and sustainable trading, not promoting consumerism or the exhaustion of the Earth's resources.
Other uses
Apart from trading there are further use cases of FairCoin with which we want to support the people of our ecosystem in their cooperative activities.
Coopfunding brings the possibility of donations and the promotion of cooperative and productive projects that share the values of FairCoop. Contributing there will help the construction of the alternative economic system we are building.
Freedom Coop was founded as a European Cooperative Society (SCE) which promotes self-management, self-employment, and economic autonomy.
Bank of the Commons is an alternative banking and financial service toolkit that promotes the commons and is based on the values of open cooperativism.
More to come
In the near future, there will surely be more and more projects where you can use your FairCoin in many more interesting ways. For example, CoopShares is one of our biggest goals in 2018, which will be a way to engage and support cooperative projects. FairChains would be another breakthrough that will allow FairCoin to interact with social currencies all around the world, using interconnected blockchains.
But most of all, we want to continue this cooperative journey towards new challenges that help to provoke real social and economic change for the benefit of all people.
We count on every one of you that supports this alive, fair, and ecological economy to keep growing and to reach even more people, areas and activities.