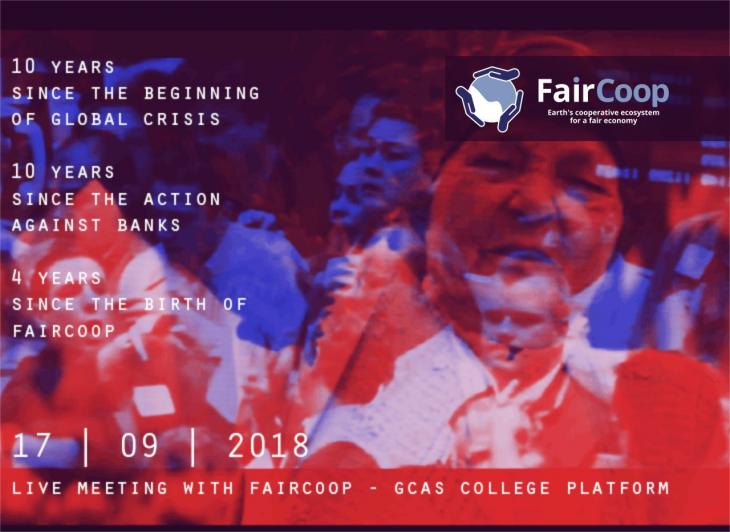 Next Monday, it will be four years since FairCoop began its journey, and it is a great reason to celebrate just the fact that such an ambitious movement made up of such heterogeneous people goes ahead, facing and overcoming continuous challenges and advancing non-stop towards the construction of a socio-economic space alternative to capitalism: a scenario in which we can freely develop all our potential and live a dignified and happy life on the basis of cooperation. We are in it.
It has also been ten years since Enric Duran, founder of FairCoop, risked his freedom by making public his expropriation of a considerable amount of money from the banks, to derive it into projects aligned with the same values that we defend. Its purpose was also to expose the fiat money scam, to denounce an economic system that depredates the planet's resources and to support the construction of alternatives to it. For further info, press here (English and Catalan).
In addition, we have given an important boost to our Education area and, from now on, we will have an space at the GCAS (Global Center for Advanced Studies) online platform, where we can share knowledge to try to take advantage of the collective intelligence towards the construction of a better world for all: the FairCoop School, another advance to celebrate and the place where we want to invite you to join to share with us such a special date.
The event will take place in two parts, will be held in English and is open to the participation of anyone willing to know a bit closer who we are and how we are working:
If you want to join, you won't need to register at GCAS this time. It is enough if you press on the session you want to participate and follow the instructions to install the tool needed to join the meeting. It won't take you too long and, in case you face any problem, you can contact @encosianima for assistance in Telegram.
Both sessions will start with an intervention by Enric Duran, who will talk about the validity of his financial action and will answer any question related to it or to these four years of FairCoop. Also, different FairCoop participants, from a broad number of local nodes around the world, will explain their experiences in the FairCoop ecosystem.
Remember that we have a date on Monday. Many things to celebrate and share!
A big thank u to all who are making this possible every day!
While we are waiting for the event to come, enjoy this introductory video (English).