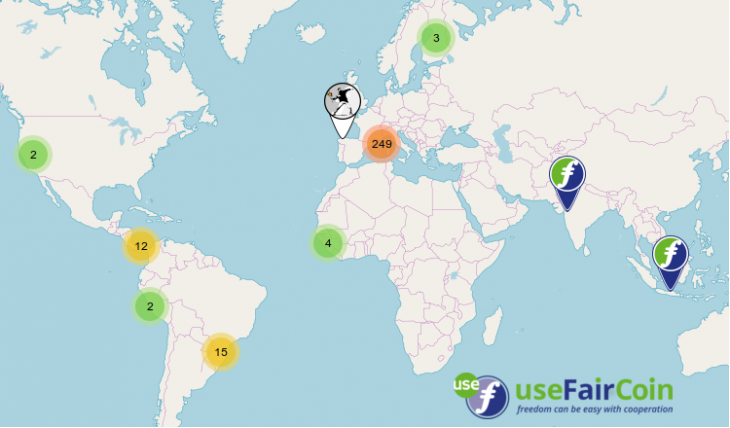 After several months of work and cooperation, we have managed to replace our old UseFaircoin site with a shiny new tool. The new version is much more useful since it will show where you are (if you enable and allow GPS access) and display all the locations around you where you can use your FairCoin. That's actually the main objective of the tool: to find locations around you where you can pay for goods and services with Faircoin.
As part of the new release, it is worth mentioning a few technical aspects and features, since we are not only announcing the release of a new and improved version of our directory but also the results of a deep reflection on who we are and where we are going.
UseFaircoin 3.0 is...
- Easier: one of the first things to emphasize is the change in domain of the new directory, from now on the domain usefaircoin makes it easier for ecosystem participants to remember.
- More up-to-date: the site has been developed as a webapp, using Ionic 4 + Angular 7, and its user interface (frontend) is independent of the backend (that part containing data).
- More complete: current API] was customised to serve GeoJSON data to display the listings of shops and services with their geolocation.
- More open: it's easy to extract the data live and everyone can easily implement her/his own visual interface (your welcome to use your own) by using the following API call
- More Confederate: the next step will be to work out the backend, which will require us to discuss further technical aspects and the best way to implement a federated architecture.
We encountered many challenges in different forms along the way and this new directory is a place to announce all those productive projects that accept Faircoin which is a result of joint effort, collaboration and collective work aimed at a common goal. The common goal of furthering the core values FairCoop around promoting and trying to achieve real and permanent change in our lives, not only on the economic side but in all aspects of our daily lives. 
UseFaircoin 3.0 is an outcome of the practice of sharing these values and principles; a real and tangible result of the fact that another world is possible and that together we can overcome the difficulties encountered along the way.
This post is also a call to participate and contribute to the thinking process around creating a collaborative environment that suits the project we want to develop, in rethinking relationships with related projects as well as developing tools that allow us to go further by creating a global information network.  A common goal that engages not only with projects directly related to Faircoin, but also those that are not, yet, but which need to be integrated to create a global federated network of knowledge exchange. This will serve to help us to link up and be more resilient to the challenges we face along the way.
Find the source code for the new UFC 3.0 webapp here
If you are a developer or would like to learn about developing with Ionic and Angular 7, you are welcome to join our groups to find out where you could help.
So now, let's get to work!
First of all, the help of local nodes together with all ecosystem participants is needed to add more projects, to review existing ones, and report errors in the working group. 
Thanks to everyone who made it possible!